Laos accused of breaching Cites treaty to protect endangered species and China of encouraging trade in live animals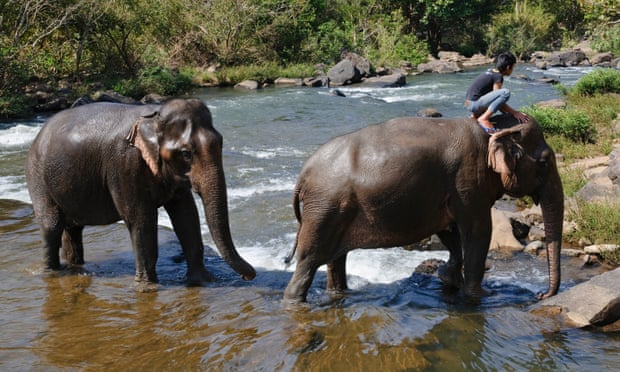 Ammann and his crew stumbled on the illicit trade between Laos and China earlier this year, while investigating the sale of 16 Asian elephants from Laos to a safari park in Dubai. None of the elephants had the necessary permits for export. The translocation was stopped by a direct order from the new Laotian prime minister at the last moment, while an Emirates Airlines Cargo 747 was already on the tarmac in Vientiane, the country's capital.
Laos does not have a single Cites-approved breeding facility, however, and, Ammann says, the transactions have been commercial. Some zoos have paid Chinese middlemen up to 10 times as much as the latter paid owners in Laos.
Elephants are a popular and renumerative attraction at Chinese circuses, zoos and safari parks – they are still expected to perform in some places, although this is increasingly controversial. Conditions can be poor – some reviewers on Tripadvisor describe elephants confined in small concrete boxes. The elephants are sourced from a number of places. In 2015, and again in 2016, amid a global outcry, Chinese zoos and safari parks flew in more than 60 baby African elephants taken from their families in the wild in Zimbabwe. The elephants are now at the Shanghai Wild Animal Park, the Beijing Wildlife Park and the Hangzhou Safari Park, among other venues.
This would not be the first time Laos had breached Cites requirements. In July last year, the Cites secretariat highlighted "gaps in implementation under Article XIII of the convention" and recommended that Laos improve its compliance ability and law enforcement of illegal wild animal and plant trafficking.
One of the measures available to Cites is to recommend that wildlife trade is suspended with Laos, says John Scanlon, the Cites secretary general. But he adds that the measure is used only "as a last resort, as our primary goal is to work with and assist Cites parties in the effective implementation of the convention".
A Cites technical committee is in Laos at the moment to verify the country's progress. Scanlon adds: "Our comment on the alleged export of Asian elephants from Laos will entirely depend on the nature of the trade and details of the particular transaction."
Ammann is sceptical that action will be taken. "The Cites secretariat should have recommended the suspension of Laos for non-compliance and lack of enforcement a long time ago," he says, "but they are a UN body and rocking the boat is not in their nature, even though suspension is a vital enforcement tool at their disposition and re-admission is an option once compliance has been achieved."
While Laos still has considerable distance to go in stopping the trade, Ammann believes that China also needs to be held accountable. "China has been on the front lines of importing iconic live species from rhino to killer whales, elephants, and recently 150 chimps – all totally illegal – and Article VIII of the convention dictates that parties involved in the illegal import be prosecuted, the animals in question confiscated and, if possible, repatriated. But this does not seem to apply to China," he says.
Read original article: https://www.theguardian.com/environment/2017/jul/25/dozens-of-laotian-elephants-illegally-sold-to-chinese-zoos?CMP=Share_iOSApp_Other