Hunting for pleasure is a barbaric, uncivilized practice that is well past its sell-by date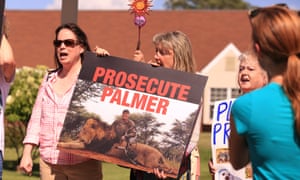 Cecil was a spectacularly beautiful lion. He was lured out of the protection of Zimbabwe's Hwange National Park so that he could be shot by the American trophy hunter Walter J. Palmer.
That's an immoral practice: I cannot imagine what was going on in this man's mind the moment he pulled the trigger of his cross bow, injuring Cecil, then tracking him for 40 long hours before shooting him dead, skinning him and cutting off his head.
Let's be clear: this was also a crime. The hunter had no permit, he is therefore a poacher. In Zimbabwe poachers are often shot dead in their tracks. Some people on social media are suggesting that Mr. Palmer be given a death sentence. In my view he deserves a proper public prosecution, and conviction, together with the guide and landowner involved, who are already under arrest.
He should be given the most severe form of penalty: jail in Africa, and a massive fine to compensate for the loss of this incredibly valuable animal.
I have written to the US Fish & Wildlife Service to ask if Mr. Palmer is currently being sought in the USA under the Lacey Act, that prohibits trade in wildlife products that have been acquired illegally, including in contravention of foreign laws.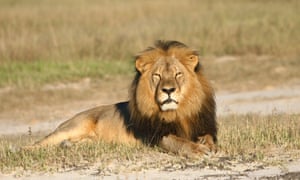 While the media has focused on the reaction of celebrities and Mr. Palmer's neighbours in Minnesota, comment on social media has revealed the deep grieving and heartbreak across Africa, as news of the murder by poachers of the great tusker Satao did last year. There is also revulsion at the whole idea of killing animals for pleasure, something that is completely alien to the African tradition of respect for wildlife.
Of course many wild animals are killed by Africans, very often unjustly or for criminal purposes. But trophy hunting is, and always has been, a rich white man's sport. For Africans, it is a symbol of colonial oppression. Formerly, most hunters were Europeans. Now the balance of power has shifted and it is no coincidence that, today, 60 percent of all lions killed for sport in Africa are shipped to the USA as trophies.
There is no ecological justification for trophy hunting. Arguments can be made (but also disputed) in favour of hunting as means of controlling populations of common animals such as deer. But trophy hunters are not interested in common animals; for them, the rarer the better. The ultimate, orgasmic experience for a trophy hunter would be to kill the last individual of a species.
Mr. Palmer 'only' paid $50,000 to get his kicks by killing Cecil. Earlier this year a hunter paid $350,000 to shoot a black rhino in Namibia: as a critically endangered species, black rhinos are more valuable as trophies. Photos posted on Internet show that Mr. Palmer has already shot dead at least one rhino. Maybe its severed head is now a conversation piece above his fireplace in Minnesota?
Lions are not yet listed as endangered, although populations are declining across Africa. But by targeting the biggest and best animals, trophy hunters do damage to populations and gene pools that is far greater than the loss of a single individual. The adult male lions targeted by trophy hunters are key individuals that otherwise would live long, full lives, protecting their mates and cubs and contributing their genes to future generations.
The idea that trophy hunting benefits African economies is also a myth – or more accurately a lie. Tourism is hugely important to African economies. For example it generated direct incomes of $33.5 bn in sub-Saharan Africa in 2011, a figure expected to rise to almost $60 bn over the coming decade.
Data from a recent briefing paper by the UN's World Tourism Organization (UNWTO) suggest that more than 80% of tourists to Africa come to view wildlife. Incomes from trophy hunting are a minuscule fraction of total income from tourism – and far outweighed by the potential damage caused to wildlife populations that sustain legitimate tourism.
The UNWTO estimates that the average wildlife watching tour in Africa (6 people for 10 days) generates $30,000 of expenditure, excluding flights. Many schemes exist, such as the successful community conservancy model in Kenya, to ensure that benefits are distributed equitably, with a proportion going to local people.
For example Along the Serengeti-Ngorongoro safari circuit in Tanzania there are about 3,500 crafts and souvenir stalls that employ 7,000 sellers and 21,000 crafters. 19% of the total earnings are considered 'pro-poor', meaning that they reach local people via wages and tips.
By contrast, trophy hunting generates lots of money for a few people, most of whom are already rich. Even pro-hunting organizations have reported that only 3 percent of revenue from trophy hunting ever makes it to the communities affected by hunting.
Even worse, local people in Africa are being expelled from their lands to make room for private game reserves. In Zimbabwe, it was reported that, in January,armed police evicted more than 200 families from a farm in eastern Zimbabwe to create space for a game park proposed by first lady Grace Mugabe. A further 200 families were threatened with the same fate in February.
Estimates suggest that 17% of land in Zimbabwe is given over to trophy hunting, which generates just 0.3% of GDP . Trophy hunting is an activity carried out by the rich and for the rich.
Earlier this week, I was lucky enough to be one a group of civil society representatives invited to meet President Obama on his visit to Kenya. He spoke eloquently about American's sense of civic duty: "when [American] people see an injustice they want to do something about it." Now is the time to call for justice, not only to avenge the death of one iconic animal, but to put an end to whole barbaric practice of trophy hunting.